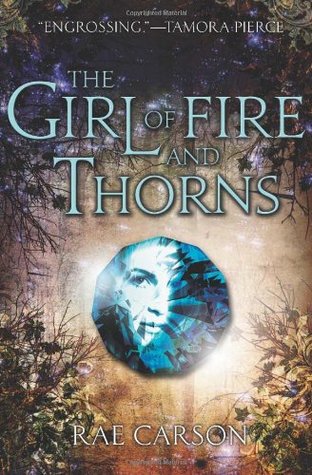 Title:
The Girl of Fire and Thorns
(Fire and Thorns trilogy #1)
Author:
Rae Carson
Published: 1st August 2011
Source: Owned hardback
Once a century, one person is chosen for greatness. Elisa is the chosen one.
But she is also the younger of two princesses, the one who has never done anything remarkable. She can't see how she ever will. Now, on her sixteenth birthday, she has become the secret wife of a handsome and worldly king—a king whose country is in turmoil. A king who needs the chosen one, not a failure of a princess.
And he's not the only one who seeks her. Savage enemies seething with dark magic are hunting her. A daring, determined revolutionary thinks she could be his people's savior. And he looks at her in a way that no man has ever looked at her before. Soon it is not just her life, but her very heart that is at stake.
Elisa could be everything to those who need her most. If the prophecy is fulfilled. If she finds the power deep within herself. If she doesn't die young. Most of the chosen do.
[Goodreads]
Plot:
Overall, this was a really good YA fantasy - it was fast-paced and action packed which is exactly how I like my fantasy and I felt like it set the series up really well. There was enough world building that I knew how everything worked, but not so much that it felt like I was being info-dumped which is always a big plus.
I was, however, worried when I first learnt of the Godstone - this shows Elisa is the chosen one and it's basically a gem stone in her belly button - this kind of freaked me out a bit and sounded so weird! It also warms up or cools down her whole body depending on the situation surrounding her (ie. it can alert her to danger) but I was still feeling squirmy over the whole thing. I also didn't know that a large basis for this plot is religion and how different interpretations among the devout can change so much. I don't usually enjoy books with religious undertones - they just aren't for me, but surprisingly I didn't mind it in this one. I think because it was put in a fantasy setting and was a religion from the author's imagination that changed how I approached it, but I'm really glad I didn't give this book a miss just because of this plot device.
I did really enjoy the direction the plot took though - there was so much happening and I actually feared for the lives of the characters which made this quite an intense read. I also loved the setting - without giving too much away you're taken to different castles within the kingdom and out into the desert and I loved seeing Elisa cope with the changes and the difficulties she was put through.
Characters:
Elisa definitely made this book so much more enjoyable for me - she felt so honest and real and I can't wait to spend more books with her. She's confused about her feelings, she lacks self confidence in her strength as a future queen and she's put through all these different situations whilst still learning who she really is away from the protection of her family. She's also overweight, and whilst I appreciated this difference from our normal YA heroines, I didn't like how differently she was treated once she lost some of the weight by certain characters, however I suppose this would be realistic.
There were love interests in this book, but it isn't too heavily focused on them which I liked, and even though she has mixed feelings there's no love triangle as such. I can't wait to see how Elisa handles her public marriage in the next book and how that will change her.
I can't really discuss other side characters without spoiling the plot, but just know that I loved them all and I really hope some of them make an appearance in the next book. I'm also looking forward to seeing Elisa's relationship with her step-son Prince Rosario develop.
Writing:
I liked Rae Carson's writing style - she's very talented at what she does and I think she writes really well in the fantasy genre. The pace was perfect in my opinion and her action scenes were brilliant - very suspenseful and I never felt confused as to what was happening. I also loved the descriptions of the land as Elisa traveled to different parts. Each different place stood out and I really liked how she had different emotional connections to different parts of the kingdom. I'm definitely excited to see where Rae Carson takes us in the rest of the series and how she writes romance (that I'm hoping develops between certain characters!)
Overall, a solid start to a series that has me wanting to get my hands on the next one soon, and anticipating all that will come as the story continues.