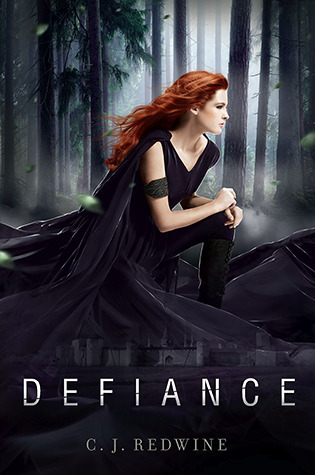 Title:
Defiance
(The Courier's Daughter Trilogy #1)
Author:
C.J. Redwine
Published: 28th August 2012 by Balzer + Bray
Source: Owned paperback
While the other girls in the walled city-state of Baalboden learn to sew and dance, Rachel Adams learns to track and hunt. While they bend like reeds to the will of their male Protectors, she uses hers for sparring practice.
When Rachel's father fails to return from a courier mission and is declared dead, the city's brutal Commander assigns Rachel a new Protector: her father's apprentice, Logan—the boy she declared her love to and who turned her down two years before. Left with nothing but fierce belief in her father's survival, Rachel decides to escape and find him herself.
As Rachel and Logan battle their way through the Wasteland, stalked by a monster that can't be killed and an army of assassins out for blood, they discover romance, heartbreak, and a truth that will incite a war decades in the making.
[Goodreads]
I did enjoy this, but it definitely wasn't a 'wow' read for me. I loved the two main characters and the premise of the plot had me really intrigued but the world building just fell quite flat for me. Maybe we'll learn more in the other books but I want to be drawn in more with the first one if I'm going to fall in love with a series. I will carry on with the trilogy to see how the story progresses but I'm not as excited for it as I wanted to be.
I find it quite frustrating that I don't really know what year this is set in, or what's happened properly in the past to get the characters where they are today. Some things are vaguely hinted at in the beginning but I love richly woven worlds and felt disappointed with this. However, I did enjoy the overall plot and the characters were definitely enough to keep me engaged - Rachel was strong, determined and loyal with her fair share of amazing skills and insecurities and weaknesses which I really enjoyed reading about. I also loved Logan and his protective yet fierce personality, and I'm looking forward to getting to know the side characters more in the other books (hopefully!)
If this book has intrigued you I would recommend picking it up and hopefully I'll get more out of this trilogy as I read the other books.