Miss Mayhem (Rebel Belle #2) - Rachel Hawkins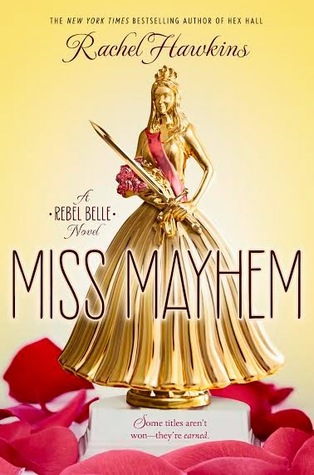 (Expected publication date: 7th April 2015)
Life is almost back to normal for Harper Price. The Ephors have been silent after their deadly attack at Cotillion months ago, and best friend Bee has returned after a mysterious disappearance. Now Harper can return her focus to the important things in life: school, canoodling with David, her nemesis-turned-ward-slash-boyfie, and even competing in the Miss Pine Grove pageant.
Unfortunately, supernatural chores are never done. The Ephors have decided they'd rather train David than kill him. The catch: Harper has to come along for the ride, but she can't stay David's Paladin unless she undergoes an ancient trial that will either kill her . . . or connect her to David for life.
[Goodreads]
Why I'm Waiting?
I've only just recently read Rebel Belle and I really enjoyed it! I loved the fun twist Rachel Hawkins added to her paranormal plot-line and the blend of girly and badassery was perfect. I also thought the romance was really sweet without being overwhelming and I really liked the witty banter between the characters. I can't wait to see what happens next!
What are you waiting on the week? Let me know in the comments!