This is such a fun topic this week, I can't wait to look through everyone's choices! Quite often on a Tuesday I am left bewildered, shameful and a little lost - it seems to highlight all the books I still haven't had time to read and I end up adding loads more to my TBR list or I get a bit click-happy on Amazon. Well...this week the secrets are out! :)
Top Ten Most Intimidating Books
Sheer length of book or series: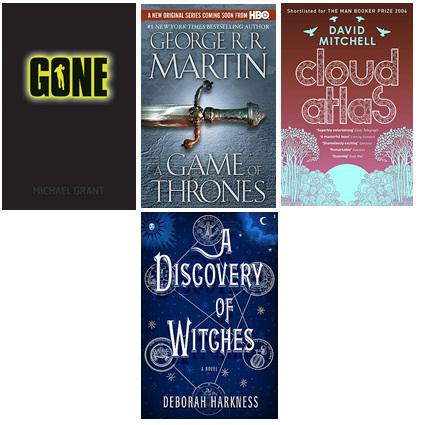 1.
Gone Series
by Michael Grant - I've been meaning to start this for so long but there's 6 in the series now. It's still one I definitely want to begin but I do find it intimidating everytime I think of starting it!
2.
Game of Thrones
by George R.R. Martin - Wow. Do I have the time to get invested in this? Probably not. Everyone raves about it though, so I feel like I'm missing out. But...it's so long!
3.
Cloud Atlas
by David Mitchell - This one seems so complicated, I don't know if I would get impatient with it and end up throwing it at the wall in frustration!
4.
A Discovery of Witches
by Deborah Harkness - This has such good reviews and I've been recommended it a lot - but the length really intimidates me! I think it's one to definitely get stuck into though...when I have time...
Topic: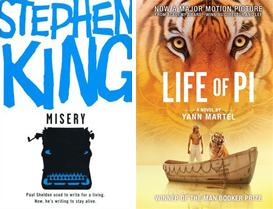 5.
Anything by Stephen King
- He scares me. I started Misery when I was very young and it made me cry so I hid it away. It now sits on my bookshelf next to Carrie and they stare at me whilst I watch TV. One day I will try again because I'm not that little girl anymore and we need to grow up sometime...right?!
6.
Life of Pi
by Yann Martel - I've put this under 'Topic' because I really don't know if it's one I want to spend time reading about. I don't want to admit it...but I don't get it. I've not watched the film yet, but I might just give the book a miss!
Extras:
7.
Someday, Someday Maybe
by Lauren Graham - I love Lauren Graham, she has a special place in my heart, as does Gilmore Girls. I don't want her book to be rubbish and ruin that for me! I've got it ready and waiting on my Kindle for when I finally take the step!
8.
Throne of Glass
by Sarah J. Maas - So many people love this and I know it has a huge fan base but I think that makes me build up massive expectations that will always be too big for it to compare.
9.
The Girl Who Kicked the Hornet's Nest
by Stieg Larsson - I wasn't a massive fan of the first two but I hate leaving things unfinished - I just need to get round to this but I don't like knowing I'm going into something I probably won't enjoy all that much.
10.
Beautiful Creatures
by Kami Garcia - Although this is long, that's not what's intimidating me about this one. Like Throne of Glass, I think the hype is putting me off. It sounds like a book I would really love, but I really don't want to be disappointed!