TOP TEN BOOKS AT THE TOP OF MY SUMMER TBR LIST
I am personally using my summer to catch up as much as I can on books I've missed. This might be a whole series, finishing a series off or stand-alones. Recently I've been dedicating too much time to reading review copies of books, and quite a lot of them have left me feeling a bit deflated. There are so many great new books coming out and I've got a lot of new releases sat on my shelves waiting to go, but I keep promising myself to read ones I've had for some time and the summer seems to be the perfect time for this. I don't know if I will be able to resist the temptation of a new book, but we'll see :)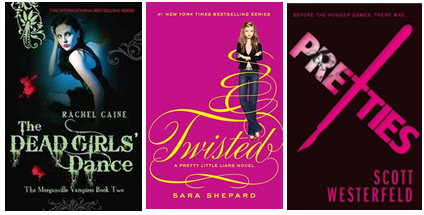 2.
Twisted (Pretty Little Liars #9)
by Sara Shepard - OK, so she's set to release book 14 in December and to be honest I don't quite know where she'll end up with this...BUT...I love them. They're so entertaining and quick to read, I just need to get cracking with the rest of the series first!
4.
Catching Jordan
by Miranda Kenneally - This looked like a really fun summer read when I first heard about it :)
5.
Numbers (Numbers #1)
by Rachel Ward - I've got the whole series ready and waiting, and I know I'll really enjoy it, so this one is going to have to become a priority!
6.
Point of Retreat (Slammed #2)
by Colleen Hoover - I know, I know, I have the third in this series on my sidebar set as 'To Read Soon' but I have to confess...I still haven't read the second one for reasons completely unknown to me!
7.
Burn for Burn (Burn for Burn #1)
by Jenny Han & Siobhan Vivian - The synopsis had me hooked when I first saw it so I instantly went out and bought it, I just need to get round to actually reading it!
8.
City of Ashes (The Mortal Instruments #2)
by Cassandra Clare - I've finally got round to reading City of Bones at the moment, and I am really enjoying it. After reading a quite a few mixed reviews I decided to ignore them a bit and get on with it, and I've been pleasantly surprised so far.
9.
Debutantes
by Cora Harrison - This cover!!!! Ahh!!!
10.
The Luxe
by Anna Godbersen - An old series that I really keep meaning to get around to. So much to read, so little time.
I really could have gone on and on with this list - I scanned my Goodreads TBR list and was amazed at how many great books I've spotted out there that I still need to read, in fact, it makes me feel a bit sad! Some of these actually make me a bit shamefaced too, because I've left it so long with not reading them! (You're probably thinking 'Where has this girl been?!' looking at some of these). There were many more stand-alones I could have picked out, but I've got so many series to catch up on first. Luckily for me, I get six weeks off in the summer as I work in a school, so I've got a lot of time to read!
How are you picking your TBR list for summer?