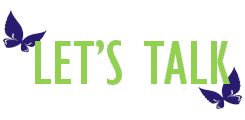 Let's Talk is a fun weekly meme at
i swim for oceans
. It's a way for us all to get involved in a discussion and have our say on certain topics!
What do you think about darker books on the YA market?
In my job as a high school librarian, the thing I am asked most for is titles of darker books.
I think the students love reading about characters their own age who they can identify with. Sometimes they want a tough storyline because as Melissa said, it makes them feel. Other times I know they're personally seeking out a particular book that reflects some part of their own life. It gives them a safe space to explore the issue whilst also allowing them to find out what the character did about it and compare their situations. If anything, it often gets them talking - whether that's between themselves or with me.
For me, I am always drawn to a novel that deals with a tough subject. I want to read books which elicit an array of emotions, that make me sit back and just really think about what I've just read, that are painful to tackle and that allow me to explore challenging topics.
However, I do believe caution has to be taken. Authors and publishers have a responsibility when they market a book as YA because although many of us in the audience are mature, just as many aren't. That's definitely not to say issues should be concealed or watered down - but in my job I do also have parents to answer to. As a librarian I do not believe in censorship but I know there are parents who would not want their children reading about certain topics from a protective point of view. I often think parents would appreciate more information on the back of a book - then it can be their decision whether or not they want to allow their child to read it, but it should still always be available. Special review websites have been set-up to purposefully provide information to aid in this decision making - they will state what issues in the book are explored, what could be flagged as inappropriate for certain audiences, whether there are any graphic scenes and what those entail.
In my opinion, if a student is taking an interest in the pure joy of reading and they have specifically picked out a darker book, who am I to say no? Reading is a personal journey, if a reader finds a book too disturbing they can put it down - believe me, this happens a lot! At the same time, I would never push a book that tackles darker subjects on to a reader - I personally love them, but I understand they aren't for everyone.
Darker books are challenging to read, sometimes hard to swallow, they push boundaries and can cause controversy - but I wouldn't ever change them from being on the YA market.